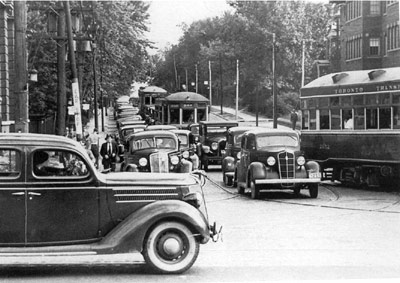 I left Toronto at noon on Friday. The plan was to arrive in Kingsville, Ontario around five o'clock. That would give us time, we thought, to take the smaller highways and to enjoy Essex County highlights like Leamington tobacco or the Wheatley asparagus mascot.
At four o'clock, we were just past Mississauga. Toronto's traffic problem is not a secret, and it's not news, and it's not something anyone outside of Wheatley actually talks about. But it has become more than a phenomenon -- now it's a civic monument.
There may as well be a Great Wall around Toronto; as citizens we are trapped inside it, and instead of might or prowess we need patience and air conditioning to overcome it. I had neither. After four hours in the opaque stink of a hundred thousand cars idling on the spot on the 401 at Islington, I realized I could have flown to England by now. By the time we hit Milton and the traffic started thinning out, I felt like I'd just fled East Berlin, for all the torment and rigamarole.
And when we were lolling through the Main Streets of Duttons and Blenheims and I was able to breathe again, I looked back with something like awe at the thing we had just conquered. It was a mountain range, a moat, a Berlin Wall. Toronto talks about eliminating the traffic problem, but what it really does is coddle it, and nurture it, to the point that it has grown up into an object as important and characteristically Torontonian as our CN Tower.
The population of Essex County is
166,000
. The average daily traffic on the busiest part of the 401 is at least
400,000
.
[email this story]
Posted by Spacing Magazine on 06/29 at 06:36 PM