Gagglescape's sister blog is
http://www.corporateknightsforum.com.
We have a series from the Davos World Economic Forum Conference that you may enjoy.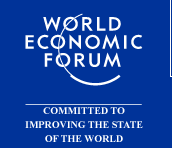 By Toby Heaps: Editor of Corporate Knights magazine which publishes the annual Global 100 Most Sustainable Corporations list each year at the World Economic Forum.
----------------------------
Environment themes and their relationship with the economy, particularly climate change, are hot this year in Davos.
Case in point. Last night I was waiting outside the Belvedere, the main Davos Hotel where the glitterati gather at night. As I was running a little late and it was quite a long line to get inside the hotel through the security check, I wondered if anyone would notice if I budded a little. But when I noticed that the Premier of Quebec was waiting behind me in the cold line, my better instincts suggested that was not a good idea, especially in Switzerland.
The Premier and I were both heading for similar events. He was off to speak on a panel with UK Conservative Leader David Cameron on climate change and energy security, and I had a dinner to co-host. I was looking forward to the dinner for two reasons: to hear what the world's leading investment bankers had to say on taking the good fight (climate change, human rights) to the political stage, and I was curious how the red-blooded Wall Street crowd (Goldman Sachs, JP Morgan, Swiss Re) would appreciate the 100 per cent vegetarian-meal I had ordered for all of them.
It turned out that the hi-carb but low-carbon veggie-lasagna was a big hit, but my dinner conversation was interrupted when a senior Canadian aluminum company executive had to go outside to answer questions from a newspaper survey on whether his company supported the Kyoto Protocol and what they were doing about it.
After dinner, a senior investment banker from the US started talking about his company's fleet of hybrids and eco-efficient headquarters. I took a big gulp of red wine, hoping to dull my senses to the coming barrage of PR. But then the boom lowered. Investment banker after investment banker stated the obvious: banks have a small direct effect on the environment but through financing activities they have a huge indirect effect, bigger than many governments. One of the top investment bankers in the US said with the same glint in his eye as a prospector finding gold: "this area [renewable energy] is very hot right now in our firm to be spending money on." The head of an industry group focused on corporate responsibility noted that when Goldman Sachs included environment and social metrics in its energy sector analysis, it had a bigger impact than a 1000 socially responsible investment funds could ever have.
But the bottom line, the consensus went, was there must be a broader economic basis for protecting the environment. In the words of one US bank chief, "there is a clear social cost to destroying the environment and we see a role for government to play in helping measure that cost, and in getting money from the destroyers to the people they hurt." He backed up his comments disclosing that his firm lobbies US Congress for stricter environmental regulations and gives money to political action committees on this basis.
A UK climate lobbyist pointed out that while winners go to market, losers go to Washington. The consensus among the participants was that the winners need to go to Washington too, in order to help balance out the aggressively negative lobbying by the losers from policies (i.e. carbon taxes) that would align economic drivers with by providing accountability for environmental costs. As a fair amount of the discussion had to this point focused on the implications of a carbon constrained economy, one US participant warned that climate change should not be allowed to crowd out other environment and social issues that also required the attention of proactive business forces.
I wished that Gord Nixon, Ed Clarke, and Ed Waugh could have heard this.
Nobel Laureate in economics Joseph Stiglitz was encouraged by this recognition of the need to take an active role on shaping progressive public policy, but he wanted to up the ante, asking the group if they would be willing to cut off 'black sheep' like Exxon who practiced similar denial tactics to the tobacco companies, or mining companies involved with egregious human rights violations.
The response was interesting. A banker from one of the world's oldest Wall Street investment houses at first came out on the defense rolling off that most financial firms (85 per cent of global capacity) have signed onto the Equator Principles, which forbid financing projects that clear cut rain forests or abuse human rights, something he admitted was a real impediment to doing business with mining companies.
The gentleman from the UK climate lobby group said it was less about saying we will or won't invest in X company, and more about companies asking themselves the question: do we want to follow change or do we want to lead change?
But Stiglitz wanted to draw a line in the sand, asking point blank: "would you feel comfortable lending money to a tobacco company?" The same banker hit back with an interesting answer: "no, but we would." More to the point he went on, would we finance 11 TXU [Texas-based utility] coal power plants? It's legal, he pointed out even if most people, with the exception of the current administration, think it's a bad idea. That veiled shot at the Whitehouse took some of the collegiality out of the dinner, prompting another top tier Wall Street investment banker to pipe in: "you were doing great until that moment."
There was broad agreement that there is a big ethical quandary about where to exclude investing the bank's and at a much larger scale, the bank client's money. The banker who had responded first citing the Equator Principles, said: we ask the question all of the time; where do we draw the line? "The ethical level is influenced by the marketplace," he went on, before pausing: "It kills me to sign a capital allocation commitment to a cigarette manufacturer but it's an acceptable economic activity in modern society."
Stiglitz had an interesting response. His point was that you can't credibly say that something is not against the law if you helped lobby for the law that makes it legal, pointing out that most of the financial community was against trying US corporate executives in US courts for criminal and civil liability related to human rights violations in countries, for instance, like Papua New Guinea.
Stiglitz enjoined the financial community to put more money into "good" companies, something that is increasingly happening at billion dollar levels, even if it is focused at private equity which represents only five per cent of the capital spectrum. "When large companies do it [invest in cleaners companies], it has, by nature of the strength of the companies, public policy consequences. I mean: it's not just some flaky academic saying this is a good idea. It's people with real money, which brings credibility to the whole area." On the 'bad guy' side, Stiglitz advocated drawing a line in the sand, asking the banks to consider, in light of the huge demand for money, how much it might cost them, if at all, to exclude lending to certain egregious economic actors? Probably not much if at all, he mused, citing the initial business opposition to affirmative action and how implementing it turned out not be such a big cost.
One of the representatives from a large reinsurance company stated that the notion of black-sheep is tainted by culture. For instance, he pointed out, the anti-tobacco line is typical US. In Europe, it's the armaments industry, which a lot of people in the US say we need for national security. Despite the relativism, he said his company had a list of sectors and countries in which it would not invest, but that list might not be the right list for other companies.
So at the end of the day, it's just humans making decisions. It seems like the heat under the collar is getting hotter at the highest financial levels when it comes to investing in companies that create big costs for society and the environment, and at the same time, all that glitters is gold when it comes to companies that are providing solutions.
After our dinner, however, I asked Stephen Schwarzman, Chairman of Blackstone Group who was waiting to have his photo taken with Claudia Schiffer, what he was doing on Cleantech. He said "nothing because it's not big enough," which means we still have some work to do.