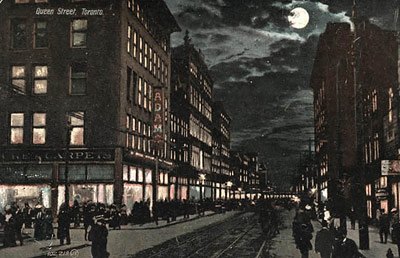 The best time to walk through the city is at night, early in the week. The people who are stressed out and drive their 740i's madly through our streets, taking the curves on Davenport much too fast, are mostly in bed by eleven. Last Tuesday night, instead of taking the subway all the way home to Dupont and Spadina, I went a little out of the way to Rosedale Station and walked from there. It was one of the hot, thick and still nights. You can smell and feel the damp ravine that crowds up to the back of the station the moment the subway doors open. I walked by the dark Starbucks on the corner of Yonge and Roxborough. Usually this place is teeming with people who wish they were in Los Angeles during the day but now it was quiet and happy to be Torontonian.
Late at night you can walk through the middle of the street with little concern. I crossed empty Avenue road and later walked diagonally through the usually chaotic Dupont and Davenport intersections. The rules are a little different at night. It's also more relaxing and when people fall asleep with the lights on and curtains open, their lives become fishbowls.
During the day I often get in shouting matches with drivers who cut off pedestrians, or those who park on the sidewalk or in bike lanes, or when they idle on the side of the street - so these walks are a reprieve from that. More than any other time, the city at night belongs to individuals and small groups.
A few of us who call ourselves the Toronto Psychogeography Society. We go for random drifts through the city on Thursday nights. We have a
collaborative blog
where we collect our thoughts about the things we find in this city (and sometimes other cities).
Until I got to Toronto it didn't occur to me to do this. Something about this city seems to invite exploration.
By Shawn Micallef
[email this story]
Posted by Spacing Magazine on 07/02 at 05:50 PM