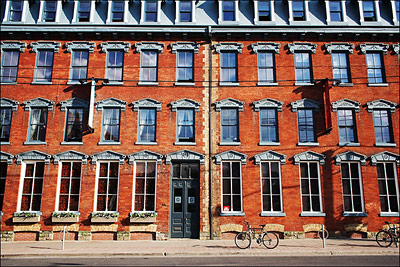 photo by Sam Javanrouh, from
Daly Dose of Imagery
--------
When it comes to photographing a city, there's something wonderful about pictures taken in a 'personal documentary' style - that middle ground between the snapshot of the non-photographer and the purposeful shot of the pro.
Personal documentary-style photos (a.k.a street photography) are a different beast than snapshots, which are equally spontaneous but lack artifice and craft. And they have a different feel than the 'purposeful shot', those photos taken by pros for spot news or touristy-type books that have a style, but lack the vitality of something taken on the spur of the moment for the simple pleasure of it. They are visual hidden treasures retrieved in a rectangular frame; the kinds of photos that are earned by getting out on the pavement and cruising, or that come about as by-products of day-to-day travel like taking a shortcut home from work, or walking to the corner store to buy coffee filters.
Wonderful is no doubt the right word to use, because that is what photographs of the city that hit the high notes inspire: you wonder where the photo was taken, or wonder how you could have missed this subtle gem existing right under your nose, or wonder how many of these ephemeral and precious moments you miss every day in the habitual rush of city living.
You can find stellar examples of this style in both Toronto's champion photoblog:
"daily dose of imagery (DDOI)"
and in that website's long lost relative, "The New City: A Prejudiced View of Toronto", a tragically out-of-print book of photos of Toronto circa 1958-61.
Sam Javanrouh's DDOI website features daily posts of digital photographs of the city; excellent pixelated snaps such as the peeling paint sandwiching the storefront windows of a furniture store on Parliament, or a spinning Esso sign in front of a criss-cross of streetcar wires at Church and Dundas, or the comfortable-looking Q and A session of a documentary screening at the Bloor Cinema.
"The New City", published in 1961 by MacMillan, features the black and white photos of Henri Rossier capturing similar moments from another time, and is one of the great documents of Toronto well worth scouring used bookstores or shelling out online for.
It's a testament to the quality of the photos in the book that Rossier gets top billing over the book's author, Canadian literary icon Pierre Berton. As explained by Berton in the intro, Rossier was a young amateur shooter from Switzerland who walked into his office with a portfolio of photos taken during the two years he had been in the city and asked for help creating a book. Described by Berton as "a newcomer who has been here long enough to know his way around but not too long to grow blasé," Rossier's photos won Berton over with their depiction of a new Toronto blossoming. It was the beginning of an immigration boom (in the next 30 years, non-Caucasians would rise from 3 to 30% of the population), and during the expansion period that would create the city's boroughs.
Berton was a writer in the mold of journalism greats like Liebling or Mencken -- keen, witty, and aware that a good yarn is important as presenting the facts. Discussed by Berton are the different sects and castes of the city and where they dwell (see "Italian Town" or "The Guilded Ghetto"), as is Toronto's changing shape and size, and it's habits of work and play.
But the star of the show is Rossier, whose photos were inspired by the style of that era, when photojournalism had hit it's high watermark in Life Magazine's photo essays and the work of the legendary Magnum photography agency. Using his rangefinder Lieca camera, still the sharpest and quietest cameras to date, Rossier is in the park when the local kids get a hockey game going, watching the Ferris Wheel at the Ex, peeking through the window of a Chinatown barbershop, at the construction site where the city is pushing towards an orchard near O'Connor Drive in the East, and documenting the last of the organ grinders at Rosedale Station and the full-wall advertisement for televisions painted over an older one for a tool and die company on Queen St. East (possibly now covered by a billboard for computers?).
Often grainy, and sometimes slightly out of focus, Rossier's shots are more about capturing the zeitgeist of the city than making pretty pictures - they're about people and spaces, the little things…
These are the kinds of photos that stand as unofficial time capsules for future generations, and the relevance of Javanrouh's current photoblog is reinforced by Rossier's journal of the past.  It can't be co-incidence that Rossier's worthy successor is also not a photographer by profession, and a recent immigrant to Toronto (he moved here from Iran in 1999).  There is a kinship, a direct lineage of visual artists making a personal project out of their burgeoning relationship with their new home - our city. With cameras in hand, they've walked Toronto's streets and noticed those little things that amalgamate to make the whole, prodding those of us who have grown too comfortable to take a step back and notice too.
By Sean Waisglass