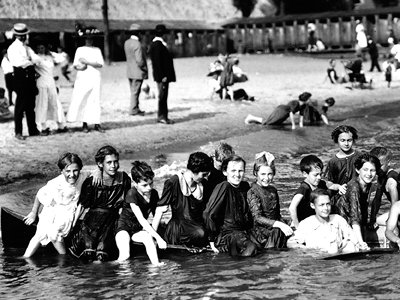 They say it's going to going to be hotter than usual this summer, which means the race up the 400 away from the city each weekend will become even more fierce. Sadly, many people often forget we have our own lake, beaches, ravines, and urban forests, which can also provide much needed relief from the smog and intense heat that reflects off our buildings and pavement.
Even fewer people would actually consider swimming at our beaches, regardless of how safe city officials claim them to be. It's hard to unlearn our negative associations with city lakes – for years we've been told that they are dirty and polluted and will give us some sort of terrible sickness if we swim in them. In reality, however, the water quality at Cherry (Clark) Beach and Hanlon's point now compare with those in cottage country.
On June 30th, there will be a celebration at Woodbine Beaches to officially welcome Blue Flags to Toronto. Blue Flag is an internationally recognized program that requires beaches to meet strict swimming standards. According to Sarah Winterton of Environmental Defence, Toronto has one of the toughest water monitoring processes in the country, if not the world.
To check the status of Toronto's beaches visit :
http://www.torontobeach.ca
or call the beach hotline at 415-392-7161.
[email this story]
Posted by Spacing Magazine on 06/26 at 03:40 PM