Note: This story was first published in http://www.corporateknightsforum.com. It is an international story that does have ramifications for all Canadians. So-called world class cities don't fit well in countries that allow this: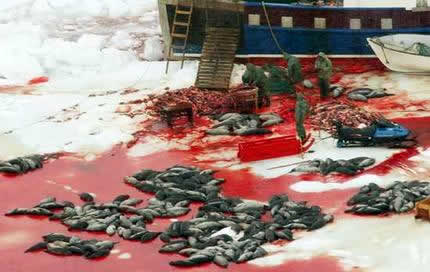 Canadian Fisheries has once again proven that it thinks bad politics beats good policy. Last weekend's seizure of the Farley Mowat—a Sea Shepherd Foundation protest vessel—proves the point. After an abysmal week for the Canadian government agency where four fisherman drowned as a result of a towing accident involving a Canadian icebreaker, Fisheries Minister Loyola Hearn decided to deflect the generation-old criticism of Canada's sealing industry by arresting environmentalists.
Leader of the Sea Shepherd organization Paul Watson made it easy for Hearn to take this step when he stated, "The Sea Shepherd Conservation Society recognizes that the deaths of four sealers is a tragedy but Sea Shepherd also recognizes that the slaughter of hundreds of thousands of seal pups is an even greater tragedy." According to the CBC, Watson also described sealers as "sadistic baby killers" and "vicious killers who are now pleading for sympathy because some of their own died while engaged in a viciously brutal activity." With eastern Canada enraged over Watson's comments, Minister Hearn saw an opportunity to act and he did. He ordered the Mowat seized in international waters.
Of course, this was Watson's purpose all along: provoke a disproportionate government response to get headlines and reach an international audience. Read this quote from the Sea Shepherd's web site:
In seizing the Farley Mowat and arresting the Sea Shepherd crew Loyola Hearn has done something that Sea Shepherd hoped he would do but we did not believe he was stupid enough to do – an unlawful boarding of foreign registered vessel in international waters. With the European Parliament on the brink of voting to ban seal products into the European market, Loyola Hearn decides to arrest Europeans for the "crime" of documenting incidents of cruelty on the ice.
Given the provocation, it is hard for Canadians to support Watson's efforts to ban sealing. That's why Green Party leader Elizabeth May decided that it was time to distance herself from the group. She resigned from her role as an advisor to the Sea Shepherd society.
"There's a point at which someone's comments are just so completely repugnant," May told CBC News Friday.

"We're just reeling from the loss of these men at sea, and whether you support the seal hunt or not, you want all the seal hunters to get home to their families safely."

Watson said Friday he is not apologetic about his comments.

"I don't pretend to not be controversial. I'm here to rock the boat, to make waves, to make people think, you know, to provoke. That's what I do."
Canada's bad policy on sealing makes Watson's job easier. The story is already in the world's news cycle, and Canada's image abroad is eroded first and foremost by the primitive spring blood ritual, and then by the making of laws meant to prevent observers from covering the slaughter. When a Canadian icebreaker rams an environmental protest vessel in international waters it is easy to guess how the story will be played by the world's press.
From the Australian News site:
Dr Redenbach, a paediatrician at Melbourne's Royal Children's Hospital, said members of the crew were arrested under the Marine Mammals Act.

"We were arrested originally yesterday on charges of violations of the Marine Mammals Act but later released without charge having been arrested in international waters," she told ABC Radio today.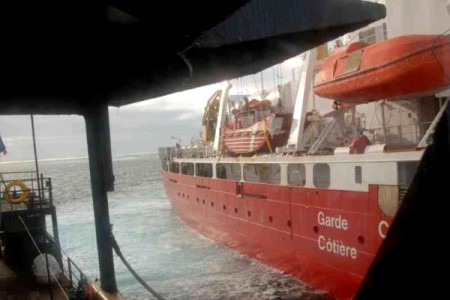 From the Globe and Mail:
"At least a dozen armed RCMP officers came on board, pointing shotguns, automatic weapons and handguns at us," said David Nickarz, a Winnipegger who works with the Sea Shepherd group. "It was like those SWAT team videos."

Mr. Nickarz said he was forced to wait in cold temperatures on the Farley Mowat deck for four hours, then handcuffed onto the railing of the Coast Guard's Des Groseilliers icebreaker.

"This was just a ploy to get us out of the way," he said of the operation. "But the bottom line is that we want to stop the seal hunt. They can take our ship, but it's not going to stop us."
One of the many sad aspects of this debacle is in the symbolism of the ship's name. The Farley Mowat is named after a legendary Canadian author and naturalist. Mowat's "A Whale for the Killing (1972)" described the brutal death of a trapped whale in Newfoundland. That book gave many people reason to think about their relationship to the natural world. Almost forty years later though we remain engaged in acts that are bent on destroying the world that sustains us. Watson's tactics are wrong, but unless we as a civilized country take steps to live sustainably and protect natural resources, we will face more such acts and Canada will not do well in the court of world opinion.
[email this story]
Posted by R Ouellette on 04/17 at 12:28 PM