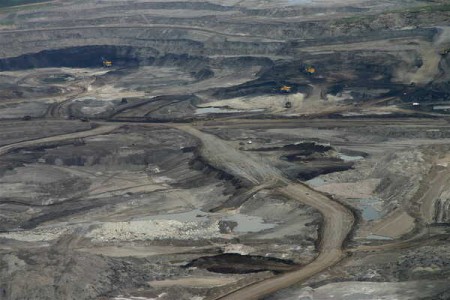 The Pembina Institute and World Wildlife Fund announced yesterday that Canada's multi-billion dollar oil sands projects rank less than F minus on their environmental scorecards. That could mean all Canadians will have to pay when our CO2 debt is called in by the world's eco-responsible nations.
Jeffery Jones
of the Guardian writes:
Environmental groups Pembina Institute and World Wildlife Fund surveyed 10 Alberta oil sands ventures, including seven yet to start producing, for attention to land, air emissions, water, climate change and overall environmental management.
Authors of the study called on the government to set more stringent limits on water use, emissions and impacts on wildlife and public health.
Only Royal Dutch Shell Plc's Muskeg River mine got a passing mark, and even that was just 56 percent, according to the report, entitled "Under-Mining the Environment."
"What this study has shown is that there's more talk than there is action in terms of meaningful commitments to addressing the issues," said Dan Woynillowicz, senior policy analyst at the Pembina Institute....

Mined oil sands from Shell, Syncrude Canada Ltd. and Suncor Energy Inc, are processed into about 800,000 barrels of refinery-ready light crude a day, which is roughly 30 percent of the country's overall oil output.
Output is expected to triple by the middle of the next decade, an increase in the energy-intensive business that is alarming to environmentalists and residents of towns near the northern oil sands hub of Fort McMurray, Alberta.
With oil sands refining already responsible for Canada's abysmal Kyoto record, the thought that production will increase threefold indicates that governments have abdicated any responsibility for the fate of the planet. One day--not long from now--all Canadians will have to pay a price for our lack of environmental stewardship today.
"The government has not been in any way driving environmental performance. The government's been as focused on growth as the industry has -- it's been 'How fast can we go?' not 'How well can we do it?'" Woynillowicz said.
He said the study is partly aimed at investors, who will eventually have to deal with liabilities among firms that do not live up to coming regulations for things like greenhouse gas emissions, which will carry major costs.
Another worry for Toronto is that all this oil sands production demands massive inputs of natural gas to produce light crude from tar. There is a finite amount of gas and when the industrial sector is willing to pay virtually any price for it then consumers will have to pay more. Welcome to the "free market." The problem is, the market is never free no matter what laissez faire capitalists maintain. There are more government--that means you and me ultimately--bailouts of commercial enterprises than economists would like to admit, and oil sands producers come nowhere close to paying the real, long-term costs of their exploration activities.
[email this story]
Posted by R Ouellette on 01/11 at 03:07 PM