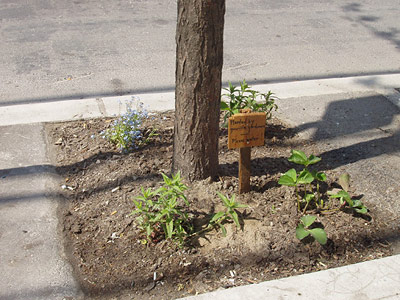 Aside from its catchy moniker, there is little about guerilla gardening that is overly aggressive. The idea is to without permission plant flowers in the city's neglected corners, to beautify each space, but also brighten the day of passersby and perhaps spur them to make a similar contribution to civic improvement. I must admit, as someone who works with plants I was at first cynical of Guerilla Gardening. To plant flowers is a wonderful gesture, but who will then care for them? I feared that any joy first brought by the plantings would turn to despair as the delicate flowers dried in the unforgiving summer sun.
Fortunately, my friends are less cynical than I am and encouraged that we begin our own faction. Concerned that things would not survive I went for a walk to scope out planting spots. An ideal location would be unloved, protected from adverse elements, highly visible, and have necessary soil. Perhaps surprisingly, I found several good locations. Next was to choose what to plant. We decided on hardy perennials, sunflower seeds, and tree saplings. We dug plants, and trees from my yard loaded them onto a small trailer along with seeds, tools, jugs and signs reading "please water". Within an evening the small group of us had planted in 8 different locations.
To keep our plantings alive, we go on watering runs, which are a bit of a hassle but allow us to keep tabs on things. To our delight many plants are still growing. Two of the trees were lost early, likely to hungry raccoons, but in other spots people have added flowers and taken responsibility for watering. Only one of our signs has been lost, and no damage to plants appears to be by humans.
There is a lot of summer left, but I am feeling confident that many of our plantings will survive. Buoyed by their success and acceptance by the neighbourhood we did a second night of planting and are planning a third. We are getting stretched a little thin so if you see our signs please water.
[email this story]
Posted by Spacing Magazine on 07/02 at 04:56 AM