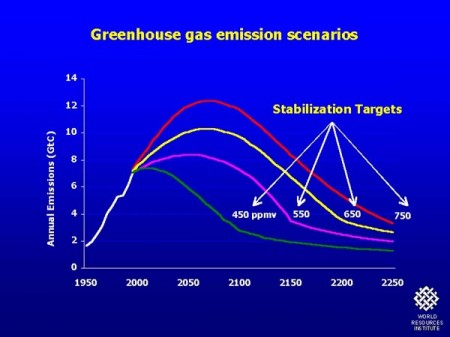 Over the objections of the minority Conservative government, opposition parties came together Wednesday to pass a bill that would have Canada meet its 2012 Kyoto targets. Private member's bill
C-288
, championed by Liberal MP Pablo Rodriguez, was approved by a vote of 161-113.
In spite of the bill's passage by a majority in a democratically elected parliament, the Conservatives said they will resist it with legal action if necessary. Still, University of Ottawa law professor Stewart Elgie says that the legislation will be binding on the Conservative government.
Many Kyoto opponents say that Canada cannot possibly hope to meet our previously agreed upon Kyoto targets. Given the oil and gas industry's huge investment in producing inefficient tar-sands oil, that is true. I belong to the "necessity is the mother of invention" camp on this issue though. If we do not make the effort and set binding targets with real regulatory teeth then we will never reduce our greenhouse gas production. Canada, as you know, is one of the world's worst offenders.
This is an issue equal to or greater than any other crisis our country has faced. Doing little or nothing will cost Canadians billions. Take a look at the U.K.'s
Stern Report
for a full explanation of the economic impact of global warming. It deserves a level of commitment at least as large as that given to "wars on terror" and other such policies that may or may not have any real validity.
[email this story]
Posted by R Ouellette on 02/16 at 12:25 PM